Highly Available & High Performance Infrastructure and Managed Services for SAP HANA
Organizations that have run ERP applications for a while struggle to get a real-time view of their business because of rapidly growing data. Analytics and reporting take a few hours at the least, if not days. And often transactions may exhibit long latency. All these lead to compounded productivity issues within an enterprise. As more companies warm up to big data and the huge possibilities for their businesses that it can unveil, such productivity issues simply cannot go unaddressed.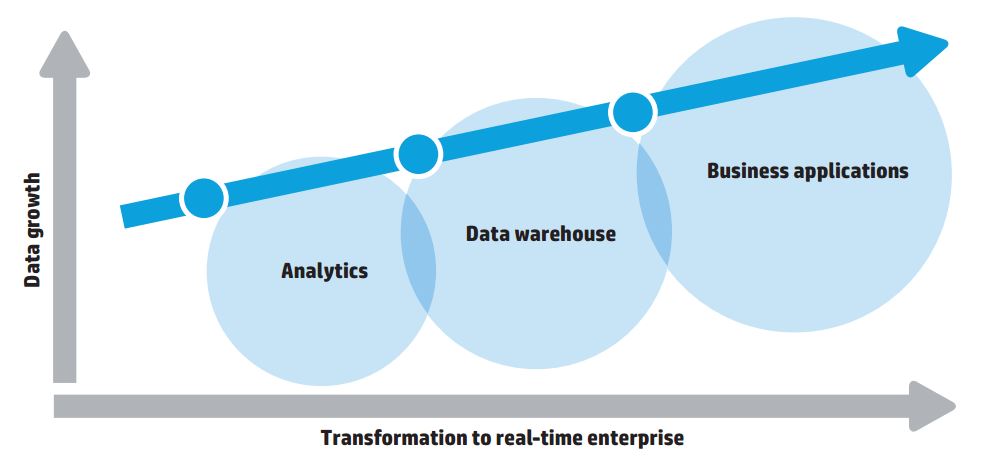 Figure – SAP HANA adoption is a journey
SAP HANA was built to tackle these issues. Businesses that operate in real-time environments with little room for lags in processing data for their critical applications have to move to in-memory compute environments. For businesses already operating SAP environments, migrating to SAP HANA is highly recommended, especially with new developments on the ERP being largely around HANA.  Many businesses ready to adopt SAP will opt for the HANA option, going forward.
By moving the action from the disk to memory, latency issues come down dramatically. However, the volatile nature of in-memory computing demands a highly resilient system. Hence, SAP has made stringent certification processes for the server and storage systems being built for HANA implementations. HP ConvergedSystem for SAP HANA has been purpose built to enable enterprises derive the fastest value out of their HANA investments. With over 77,000 SAP implementations running on HP systems, it was natural for SAP and HP to work together to build this new system.
On-premise or Cloud Deployments
Progression is helping organizations make their move to the HANA platform, both as on-premise initiatives as well as private cloud deployments at Progression's data center. As a leading HP partner who has been working on SAP infrastructure for many years, Progression is equipped with the right expertise for such deployments. The various options and configurations available for your HANA implementation are: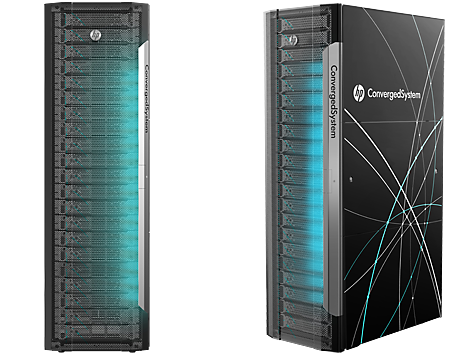 Figure – HP ConvergedSystem 500 for SAP HANA
HP ConvergedSystem 500 Scale-Up Configurations:
Intel® Xeon® E7 v3 architecture
A choice of configurations including 128GB, 384GB, 512GB, 768GB, 1TB, 1.5TB, 2TB and 3TB are certified for SAP HANA workloads across analytics to SAP Business Suite on HANA
HP ConvergedSystem 500 Scale-Out Configurations:
Intel® Xeon® E7 v3 architecture
Available in a choice of nodes of 1TB or 1.5TB nodes, up to 16 nodes
Increased density of 50% over previous generation with compute node sizes of 1.5 TB
Reduced data center footprint and provides ability to grow as your data grows
Why Choose Progression for SAP HANA Infrastructure?
Progression has deployed infrastructure for SAP for over 15 years now. We have set up and managed several SAP infrastructure implementations, on-premise as well as in various private cloud flavors.  As enterprises in India move to embrace the huge performance and capability leaps delivered by HANA, Progression is well positioned as your infrastructure partner of choice for SAP HANA implementations.

Business Benefits
The HP ConvergedSystem implemented by Progression delivers the following benefits to a HANA deployment.
Speed: It is optimized for speed and has been tested on SAP benchmarks for various types of workloads. The tests have shown faster performance, improved runtime, query time, and the highest I/O bandwidth of any x86 scale-up system.
Scalable: Options to scale include systems that scale the memory pool size, or to scale out using multiple nodes. Depending on the size of SAP environment they run, enterprises can opt for scale up or scale out configurations.
Choice: You can deploy this as on-premise, or a hosted Managed Private Cloud.
Simple: The system has automated storage provisioning, and SAP-certified backup and provisioning solutions.
Support 24×7: Progression's NOC works round the clock to ensure that your HANA implementation stays available. Along with the sophisticated technology and expertise needed to manage SAP HANA infrastructure, Progression's team also takes complete ownership and keeps it available, whatever IT takes. Thus, partnering with Progression takes the risk out of the infrastructure management aspect of SAP HANA implementations.