Protect Your Business with Our Comprehensive Managed Security Services
Stay Ahead of Cyber Threats with Progression Infonet's SOC and NOC
"In 2022, 76% of organizations were targeted by a ransomware attack, out of which 64% were infected. Only 50% of these organizations managed to retrieve their data after paying the ransom"

Our Security Service Offerings
Security Assessment
The Progression  Digital Security Assessment identifies vulnerabilities in your networks and applications through an in-depth review of the personnel, processes, contracts, vendors and organizational factors influencing your security profile. Our complex analysis results in an objective assessment of the state of your security and provides strategic recommendations on actions to improve problem areas and re-focus resources to achieve optimal impact
Security Incident & Event Management (SIEM)
By utilizing a SIEM, Progression Infonet provides a mechanism to rapidly deploy a log collection infrastructure that directly supports this requirement. Ticketing and alerting capabilities also satisfy routine log data review requirements. Deployment and implementation of Security Incident & Event Management included with integration ontox` the Progression  SOC Security VUE Portal
Threat Hunting: 
Threat Hunting is used to quickly uncover infected hosts and threats to your environment. This service utilizes a VM appliance that collects DNS data, analyzes, and scores security alerts and data for investigation.
Vulnerability Management
Progression Infonetperforms Vulnerability Management services across internal, external, and third-party devices services, applications, and databases to identify organizational risk and patching effectiveness. From missing updates or patches to software bugs and operating design flaws, vulnerabilities in your system are bound to occur. At Progression , we provide transparency and actionable reporting that can help you proactively address your vulnerabilities. Our industrialized service delivery model uses unified and standardized SOC processes and playbooks that can be repeated to enable a low cost of entry (with reduced client CapEx) and swift deployment.
Penetration Testing
Our technology experts employ advanced tools and techniques, like those used by hackers, to identify and explore security vulnerabilities within your company. We then analyze the findings and provide recommendations prioritized by threat level, helping you resolve issues, mitigate risks, and meet heightened security objectives.
Security Operations Center
Progression  Digital's Managed SOC provides a hybrid resourcing model of on-site and offsite professionals, combining 24×7 coverage with a SOC model that is customized around your core business needs. Threats continue to evolve and your SOC must too. Progression Infonet wraps experienced people, efficient processes and multi-tenant platforms around leading technologies to provide a business focused SOC that evolves with your organization's needs to this ever-changing threat landscape we are currently experiencing
Threat Intelligence
Threat Intelligence helps prevent clients from having breached credentials maliciously used against their organizations. Match your organizations employee and consumer logins against the world's largest repository of compromised credentials and Personally Identifiable Information (PII) recovered from third-party breaches. Monitor and reset passwords before criminals can profit from stolen information and protect your enterprise.
Attack Simulation
Attack Simulation begins where other security testing programs end by taking a hacker's view of your organization. By utilizing years of cyber-attack tools and methodologies, Progression Infonetcan identify security flaws not detectable to most organizations. The advantage of attack simulation is the ability to see the systemic effect that each identified gap or weakness has on other security controls across the enterprise.
Vulnerability Scanning
Our security consultants will work closely with you to develop a test plan that scans your entire network, looking for all possible technical and administrative vulnerabilities. The service includes a comprehensive report with vulnerabilities ranked according to severity
level and, most importantly, recommendations for optimizing configurations, protecting security perimeters, improving interoperability between network segments and applications, and eliminating all identified vulnerabilities.
Virtual CISO
Not every organization is ready for a Chief Information Security Officer (CISO), nor does it make business sense to hire one irrespective of the nature of threats we are facing. This is particularly true for small and medium-sized businesses who are just starting out in their information security journey aiming to build an effective yet cost-efficient security framework. CISO-as-a-service, also known as a virtual CISO, is an efficient way to bridge the gap between the requirements of a nascent security organization and its need for a full-time CISO. The key idea is to have a functioning CISO office within an organization without the associated overhead costs
Our Security OEM Partners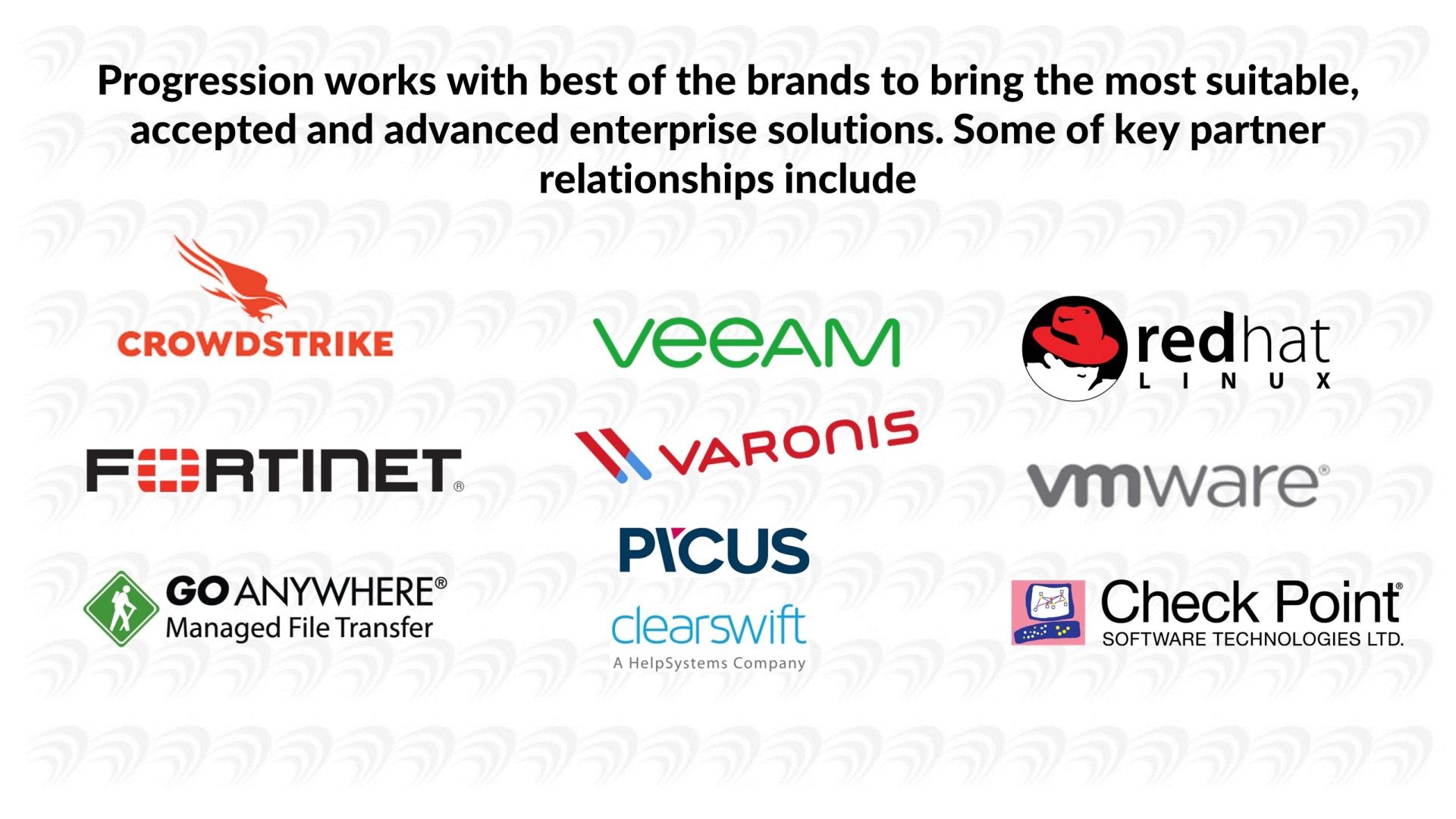 During the challenging pandemic years, we could only trust our long term Managed Services Partner Progression. Progression team has implemented Disaster Recovery as a Service to us within 2 days during the lockdown period.
Sourav Basu | VP - R&D | - CURADEV PHARMA