One of the most important questions IT Businesses Executives have regardless of their decision of implementing SAP S/4HANA or migrating from an existing ERP is to choose between the two models: Cloud and On-Premise. In this Digital Era, every organization needs to stay ahead of the competition. It is important to find the best workaround for your IT needs at a fair price. IT which is the foundation of every single dynamic undertaking must empower executives to concentrate on business expansion as opposed to turning into a barrier. Although On-Premise hosting appears to be an undeniable choice for CIOs as it seems simple, however, it may accompany various barriers. On the contrary, Cloud empowers businesses to essentially lessen CAPEX and move to an OPEX model.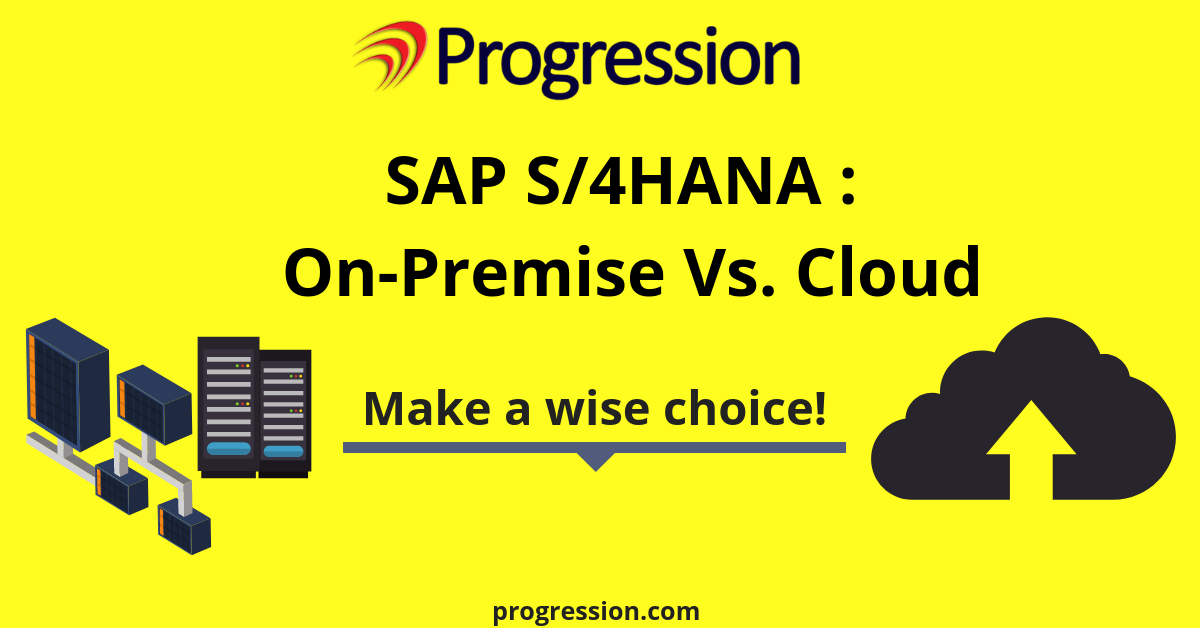 According to an article in (Software Advice, June 19, 2014), entitled "Cloud vs. On-Premise Deployment, 2008-2014," Noel Radley a Market Research Associate at Software Advice states, "There's been a radical shift in deployment preference: "The preference for On-Premise deployment dropped from 54 to 5 percent in this period." On the other hand "The preference for Cloud deployment has raised gradually, from 10 percent in 2008 to 32 percent in 2014, growing between 2 and 7 percent each year."
Here is the simple guide to help you choose the right path based on your organization's unique needs.
On-Premise SAP S/4HANA hosting gives the organization physical control on their server hardware. There are certain disadvantages associated with the On-Premise setups are it requires dedicated in-house IT team available 24/7 to support operations. It also requires heavy investment in IT infrastructure and manpower with the risk of data loss in emergency situations. On the contrary, Managed Cloud SAP S/4HANA hosting follows the OPEX model instead of CAPEX. The businesses can pay-per-use for the amount of IT services consumed. As per the requirements of the user, the infra can be scaled up and down along with regular data backups. A trusted service provider guarantees that the framework is always up-to-date and that the specialists are utilized when needed.
With Managed Cloud SAP S/4HANA hosting, the performance depends on the capabilities of the data center and the cognizance of the IT
expert team. Efficiency in terms of infrastructure controls the user experience. The onus of safeguarding the sensitive information of the
organizations is on the Cloud service provider.
In a nutshell, with Cloud computing all hassles of IT operation, such as tackling server downtime, connectivity issues will be taken
care of by the service provider. However, this has to be taken care of by the in-house IT team in case of On-Premise setup.
On-Premise vs. Cloud: Take the first step
Security and compliance are the top concern that comes to the mind of IT executives before moving to the Cloud. The service provider must
have high responsiveness with security best practices in place. The pool of resources such as servers, storage, networks, and other computing resources must be away from threats. The service provider must come with ample experience which is a sign of stability ensuring their systems are not vulnerable.
It is important to have a trusted partner that will take care of your SAP S/4HANA hosting so that you can focus on your core competencies and grow your business.
Making a wise choice with the right hosting partner
Most of the organizations think that it's hard to choose the correct enterprise Cloud partner for SAP S/4HANA hosting. Taking into account
that SAP is the core of the business and understanding the multifaceted nature of the tasks, it is fundamental that CIOs pick a partner that has the required set of abilities and experience with a solid culture of responsiveness. To help business smoothly transition from On-Premise to Cloud, Progression offers redid business Cloud services allowing organizations to scale infrastructures tailored to the goals.
With Progression Cloud, you can avail all the benefits of Cloud and as a reputable Cloud vendor, we have strict standards in place to keep the
data safe for our clients. To further ease concerns, the organization can any time seek a security audit. Our data center is vigorously ensured with various layers of security, beginning with Firewall, Intrusion Detection and Prevention System, Anti Bots/Malware, and secure passage VPNs from Tier 1 OEMs. The servers that we use are from Tier 1 and SAP Certified sellers.
Progression has 23 years of experience and has helped many clients successfully implement SAP S/4HANA Managed Cloud hosting. Our experts ensure to deliver the best-dedicated Cloud environment for SAP S/4HANA so that you get a mature and secure architecture along with quicker performance upgrades. We are recognized for our perfect combination of infrastructure, skills, governance, and passion to stay abreast of the most recent innovative developments. We are ISO 27001:2013 certified and adhere to ITIL v3 standards in service delivery. We understand the challenges an organization may face and mitigate risks with a motto of whatever IT takes.
For more information on Cloud or On-Premise solutions please get in touch with us as we are committed to fulfil your IT needs whatever it takes.