Robotic Process Automation is a method that enables businesses to automate procedures and operations that would otherwise be performed by personnel.
Robotic Process Automation has added great value to businesses today, from lightning-fast customer service to operational efficiency. Today's CEOs are focusing on employing RPA to automate monotonous operations and delegating intellectual duties to humans.
RPA is a solution that makes it simple to create, deploy, and manage software robots that mimic human behaviour while dealing with digital systems and software. Software robots, like people, can understand what's on a screen, type the correct keystrokes, traverse systems, recognise and retrieve data, and do a variety of predefined tasks. Software robots, on the other hand, can do it faster and more consistently than humans, without having to stand up and stretch or take a coffee break.
What is the situation in India?
Companies are increasingly adopting automated processes as a result of the proliferation of remote working solutions. According to a study conducted by the International Data Corporation (IDC) and Automation Anywhere, adoption rates of robotic process automation (RPA) will increase by 57 percent in India in 2021 .
According to the report, 56 percent of companies in the country plan to use digital workers and software bots to operate alongside their human staff. Human resources now manage around 76 percent of the surveyed organizations' volumes of rules-based and repetitive jobs.
"As the structure of work and jobs shifts in the aftermath of the pandemic, digital workers will contribute value beyond ROI by assisting enterprises in developing new capabilities and business models. Automation will become a corporate essential for delivering innovation, customer centricity, and efficiency gains, according to Rishu Sharma, Principal Analyst, Cloud and Artificial Intelligence (AI), at IDC India.
Since March 2020, when global lockdowns forced enterprises to adopt remote labour, RPA and other automated technologies have been on the rise. According to industry insiders, not only private enterprises, but also the public sector, have implemented automation. According to the IDC analysis, a government-owned postal service automated 25 procedures including financial journal maintenance, credit upload management, and more.
Use cases of RPA
Robotic Process Automation can be helpful in many ways and this system is adaptable to a variety of applications, platforms, and departments. RPA works effectively with existing IT infrastructure and does not necessitate any new setup. Companies do not need to spend a lot of money to automate critical activities.
Now let us discuss some of the RPA use cases that help the organizations: –
Sales Order
Maintaining data integrity across enterprise systems is a time-consuming process. The salesperson must devote his valuable time to entering data into the CRM and ERP systems. Finance analysts must re-enter the data into a different system or module. This could lead to duplication, errors, and a decrease in productivity. RPA can automate procedures like sales order entry, invoicing, and more to complete sales activities from start to finish. It will assist in database maintenance by deleting duplicate data, improving customer experience, and increasing sales personnel satisfaction by removing all time-consuming duties such as data input, allowing them to focus on their primary objective of prospecting and creating more revenue.
Customer Service
Customers in today's world have come to expect speedy responses and effective solutions. With the help of automation, it is feasible to give the results that clients desire. Customer service systems that are automated can categorize inquiries and provide first responses to clients. The automated system may sort queries into several groups, such as tech support, service support, and so on. Sorting guarantees that the correct customer service person receives the inquiries and that they are resolved quickly. It is not necessary to transfer the customer's call from one executive to another. Several rule-based processes in customer service can be automated and simplified. Over 70% to 80% of rule-based procedures can be automated, according to research, and customer service is a good place to start.
Price Comparison
Businesses frequently need to buy in bulk in order to create products or deliver services. The price of these things can have an impact on a company's income or profits; corporations always conduct research online before making a decision. Because the research process can be time-consuming and complex, many businesses have begun to use RPA. The system may assess product features and quality in addition to prices from multiple sellers. Businesses may purchase the best resources at the most competitive cost.
There are much more advantages to the use of Robotic Process Automation. So let us discuss some RPA use cases to explain its importance in various industries: –
Manufacturing Industry
In the manufacturing industry, there are innumerable RPA use cases.
RPA is used in the following cases in the manufacturing industry: –
Inventory management: RPA may be used in inventory management to automate emails, digitize documentation, and track inventory levels and product demand.
It can provide accurate production reports and offer a clear picture of the condition. It makes it easier to make good decisions and respond quickly to production demands.
Bills of materials: RPA case studies in manufacturing show how software bots may automate bills of material by extracting data and ensuring data accuracy, resulting in fewer errors and transactional concerns.
IT Industry
In the field of information technology, there are a variety of applications for Robotic Process Automation (RPA)
By far, the most significant influence of Robotic Process Automation has been witnessed in the IT sector.
The following are some RPA use cases in IT operations:
RPA can automate the process of installing tools on the system, saving time for staff.
Developers must set their coding environment. Because the procedure is consistent across all systems, RPA is ideal for automating the initial configuration and setup of this environment.
Automation testing is one of the most effective examples of business process automation in the technology industry. User testing takes time and requires many gimmicks when done manually. RPA, which runs after every update, automates common testing scenarios. When compared to manual testing, it ensures that errors are discovered and fixed faster.
Banking Industry
Banks have a reputation for inefficiency, but process automation using robotics in banking has transformed the game.
RPA can be used in a variety of ways in finance, including:
Credit Checks: RPA software bots may now conduct credit checks on loan prospects to determine whether or not they meet the loan disbursement criteria. The amount of time it takes to process a loan has been considerably decreased.
Bankers have to manually fill in client information from documents when entering data. RPA bots may take data from documents and fill it into forms automatically using document scraping.
Review applications: Companies like United Overseas Bank automated their credit card application review process, allowing them to respond faster.
Another great application of the Robotic Process Automation is customer onboarding. Account opening and customer onboarding are two tedious processes that demand automation in banking.
Use Cases for RPA in Administrative Processes
In most circumstances, RPA allows for simple data processing, such as data extraction and subsequent completion of forms.
The following are some examples of robotic process use cases from the documentation: –
RPA can be used to automate paper-based bills using OCR, extract data, and transmit it to the appropriate stakeholders. Speak with our RPA experts for the best invoice automation services.
Data input: Probably the most frequent robotic process automation use case, RPA allows businesses to swiftly enter data into spreadsheets or CRM systems, cutting down on processing time.
Customer data storage: RPA software bots can quickly store customer data from the initial forms customers fill out and display it in a legible format.
Here is a pictorial representation of the applications of RPA in various industries: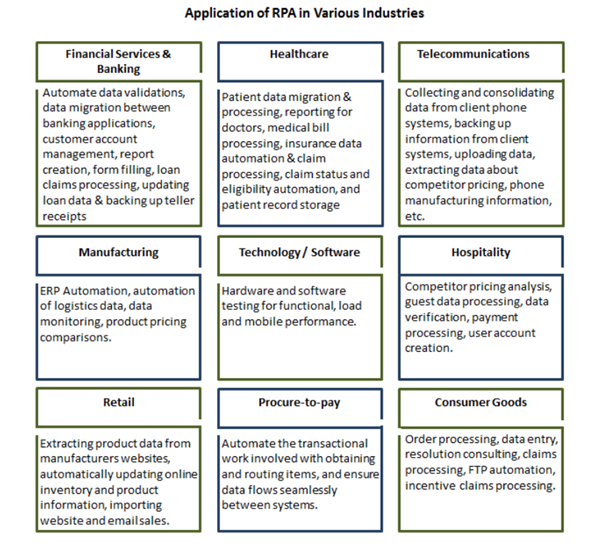 How to decide, measure, and maintain?
Some of the ways you can measure and maintain the effectiveness of implementing RPA into your business are: –
Customer always first: introducing automation may have emotional ramifications for those working on vital procedures. Any automation approach must attempt to quantify its impact.
Continuous IT improvements: automating a process isn't the be-all and end-all solution to all challenges. An important factor for efficiency is rethinking how various platforms are used in your company.
Up to speed with business growth: As the organization grows, it's critical to keep track of where, how, and when RPA processes might be extended, modified, or even deleted.
Higher ROI: Automating a process should result in a higher ROI as a result of business efficiency and cost savings
Form a support team: Develop organizational capabilities to support post-go-live RPA activities in order to ensure that RPA sticks.
Conclusion
Every firm must develop with technology, understand its customers' demands, and market sentiment in order to survive and prosper. Depending on the industry, there are many more advantages of robotic process automation.
According to a Deloitte report, RPA continues to meet and exceed expectations in a variety of areas, including:
Improved Compliance received 92 percent of the vote.
Quality and accuracy have improved by 90%.
Productivity increased by 86 percent
Costs were cut by 59 percent.
Message from us
We, Progression, would love to serve you with the personalized & customized RPA solution. With us, you will get to see the proofs of benefits right from the PoC stage. Our consultative nature of engagement will ensure that those benefits of cost, quality, flexibility, risk mitigation, processing cycles and ROI are measurable, demonstrable and can be proven. If majority of these yardsticks are not upto the mark, we ourselves will advise you not to touch those processes for RPA. For us every customer and every business are unique and there is not one template that can be stamped on all customers. Keeping the core RPA expertise in place, we customise our approach towards each customer's RPA needs.