The new normal is here and is going to stay for an uncertain period of time. Almost all the organizations & businesses have adapted and have found the right blend of working from home and from office. Digital transformation has made this remote adoption possible and exceeded all expectations as far as the growth rate of remote work.
Did you know that the 2020 remote work research by salesforce revealed the that working from home because of the COVID-19 pandemic has had only had a 1% reduction on work productivity? And more than 40% of workers would prefer to work remotely full time in the future.
Keeping these things in mind, it is safe to say that the world around us is changing faster than we think. The Volatile, Uncertain, Complex and the Ambiguous (VUCA) world that we live proves that we need to re-think our business strategies to survive and then eventually grow.
Let us have a look at these statements by Sandy Shen, Senior Director Analyst, Gartner. He says, "With COVID-19 disrupting the business landscape, CIOs should relook at the digital fulfilment of market demand. The value of digital channels, products and operations is immediately obvious to companies everywhere right now. This is a wake-up call for organizations that have placed too much focus on daily operational needs at the expense of investing in digital business and long-term resilience."
"Videoconferencing, messaging, collaboration tools and document sharing are just a few examples of technologies that facilitate remote work. Additional bandwidth and network capacity may also be needed, given the increasing number of users and volume of communications," informed Shen. This proves that the businesses that can shift technology capacity and investments to digital platforms will mitigate the impact of the outbreak and keep their companies running smoothly now, and over the long term.
Apart from handling all the work in such challenging times, ensuring business continuity, and enhancing employee productivity, there are some more critical challenges faced by the IT industry leaders in today's time. It is extremely important for them to strike the right balance in using cloud to help the business transform, differentiate and gain a competitive advantage. Developing an effective private/public/hybrid cloud strategy adds a lot of pressure on them.
As we have seen above, due to the spread of COVID-19 coronavirus, remote work is suddenly an overnight requirement for many companies. "We're being forced into the world's largest work-from-home experiment and, so far, it hasn't been easy for a lot of organizations to implement," says Saikat Chatterjee, Senior Director, Advisory at Gartner. The latest crisis has taken the Industry by surprise and is probably the biggest ever challenge being faced by Indian IT. The speed with which this crisis has hit the industry is unprecedented and it has severely tested business continuity plans and disaster recovery strategies.
There is a constant need for emerging technologies to take care of disruptions caused by such scenarios that we see in front of us today. One of these technologies which is highly relevant and important in today's context is Remote Infrastructure Monitoring & Management (RIMM).
RIMM refers to the process of monitoring and managing the Information Technology (IT) infrastructure of an enterprise (entirely or in parts) remotely. It includes management of resources like computer hardware and software, network and storage devices, enterprise grade IT servers & databases.
With Remote Infrastructure Monitoring & Management, enterprises can forego their strain of maintaining and managing IT operations within the organization. The RIMM services provider ensures to provide 24*7 global monitoring and management support.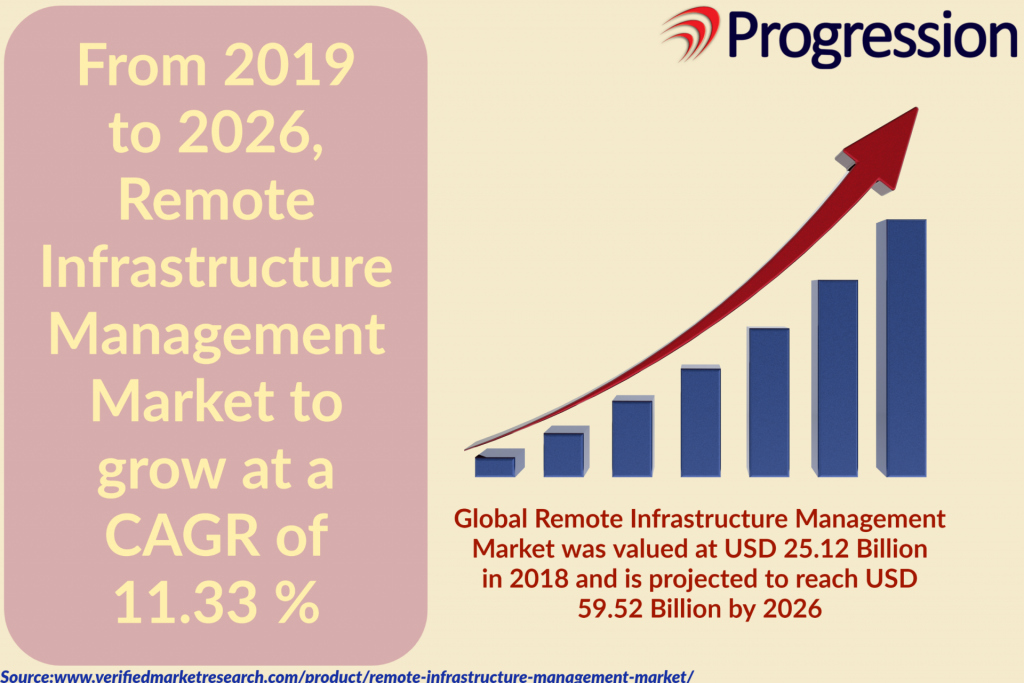 According to Verified Market Research, the Global Remote Infrastructure Management Market was valued at USD 25.12 Billion in 2018 and is projected to reach USD 59.52 Billion by 2026, growing at a CAGR of 11.33 % from 2019 to 2026.
As per the report, the remote infrastructure management market is experiencing tremendous growth owing to the downfall on the IT and network infrastructure units and being able to efficiently manage the most complex networks. The other factors such as the growing demand for the reduction in the cost of deployment, offering the good quality of services at economical cost, contribute to the market growth.
This growth can also be accredited to the increasing requirement among the enterprises to manage servers remotely as well as to monitor them to protect from any risk or attack.
Since most of the servers are located at remote locations and function from multiple locations, securing a server becomes a prime concern for all the enterprises.
Therefore, they need remote infrastructure management services to manage their servers, server audit, update and performance monitoring, patch management, and to deliver proactive timely maintenance for their servers.
In today's time, we can all agree to the fact that information is empowering. With mobile monitoring or monitoring on the go service offered with RIMM, you can easily keep track of your infrastructure.
Some important benefits of incorporating remote infrastructure management services include:
Since IT infrastructures are prone to breakdowns and malfunctioning irrespective of time and place, enterprises need a solution that is available 24X7. This makes remote infrastructure services an efficient solution, as the top remote infrastructure management companies deploy a team of experts that ensure enterprises effective monitoring of their IT environment and round the clock support. There is complete transparency between RIMM provider and the clients which gives total visibility of your environment even when you are on move.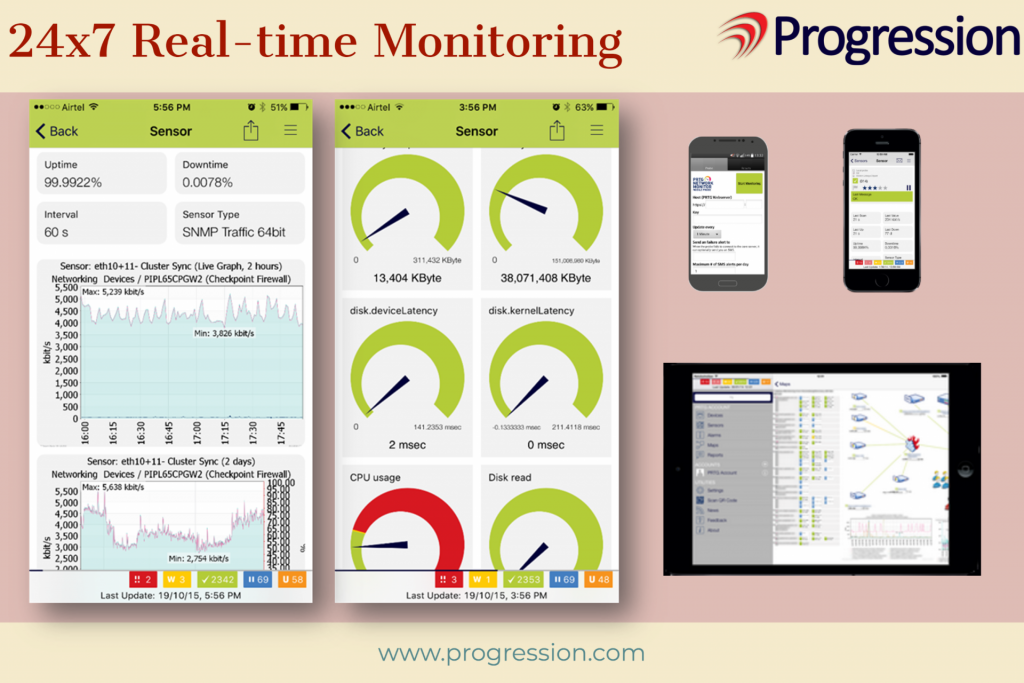 Customized and Additional Services
Remote infrastructure management companies' offer customized services in accordance with the business needs and requirements of enterprises. They provide enterprises with an option to hand-over the management of servers, maintenance of networks and on-site staff to cater internal helpdesk. They also offer additional services like infrastructure analysis that aids enterprises in saving costs and minimizing downtime.
The top remote infrastructure service providers supply enterprises with high standard equipment, technicians, management expertise, and a wide range of other services. They also partner with other service providers to initiate a strategic partnership to integrate the latest technologies. This amassment of advanced technologies, top-notch equipment and 24X7 support benefits enterprises with unparalleled network redundancy and uptime.
Remote infrastructure management services provide enterprises with numerous other benefits. Some of them include:
Surges productivity and efficiency of enterprise's IT infrastructure
Makes new and improved business-critical services available
Centralizes management and allows enterprises to focus on innovations
Implements automation to save various resources like time, efforts, and costs
Progression's Remote Infrastructure Monitoring & Management:
Progression aligns with the organization's overall business objectives & goals and empowers process improvement by the advanced tools and sensors monitoring infrastructure, upgraded procedures for tracking infra layers, and specialized tech expertise. We enable organizations with a single pane of glass to monitor health & performance of their network components in real time. This transparent platform reflects any breakdown with respect to IT, triggers the alarm and the businesses would be notified on their respective laptops/mobile devices. We endeavor to address consistency and security challenges and furthermore offer innovations that address the vital business needs of the enterprises. Learn more about Remote Infrastructure Monitoring & Management services here.