A rising need for most organizations with remote workplaces is to oversee remote resources and assets centrally. The IT infrastructure of many enterprises is scattered across geographies to support various functional areas. Remote Infrastructure Monitoring & Management (RIMM) which incorporates the management and monitoring of critical IT infrastructure including IT hardware, software, network, devices, communication, database, application, storage and security ensuring continuous availability of all these assets is turning into a popular answer for the organizations. It enables them to concentrate on productivity and innovation subsequently empowering them to improve operational proficiency, adaptability, and versatility.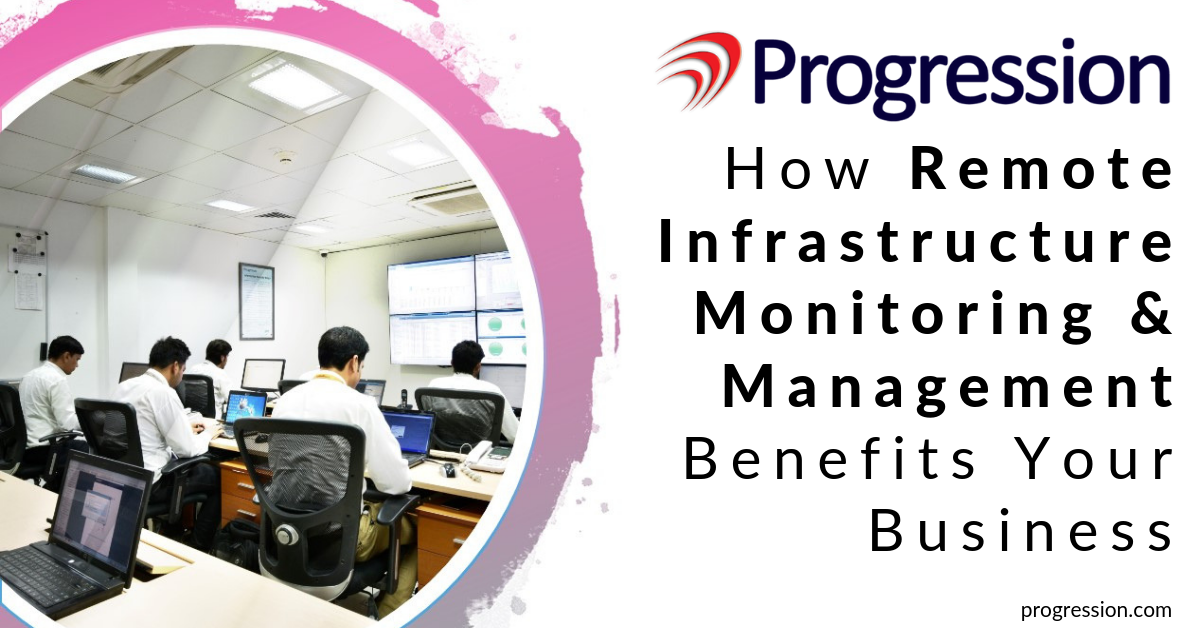 RIMM is encountering adoption across different businesses because of its ability to upgrade productivity, lessen costs and improve administration accessibility. It has been said that a viable RIMM system can yield a 25% cost savings as for an organization IT infra management spending as per UST Global. To put it plainly, RIMM can increase the value of the business's general IT strategy. As per a report by NASSCOM, the assembly of these three forces – evolution in technologies, changes in customer behavior and demand patterns, and developments in the supply environment have pushed the RIMM industry to a pace a lot quicker than initially imagined. As per a market research firm, the RIMM is partitioned into type, deployment, organization size, and application segments. On the basis of the deployment, RIMM further segments into on-premises and on-cloud. Small & medium enterprises and large enterprises form the distinction on the basis of the size of the organization. Larger enterprises are expected to grow in emerging economies such as India and China which may have a greater demand for RIMM owing to investment from the advanced economies. The application segment is bifurcated into healthcare, transportation, BFSI, manufacturing, retail & e-commerce, IT & telecommunication, media & entertainment, government & defense, and many more. RIMM is sub-arranged into database management, storage management, server management, network & communication management, desktop management, application management, and others.
Market Trends in RIMM
The market size of the Indian IT industry was USD 41 Billion in the year 2018. As per a firm Knowarth, the IT industry is expected to grow on 12.5 compounds till 2020. It is also highlighted that 85% of infrastructure components can be managed remotely, this is the largest impact on an organization's revenue. According to ABNEWSWIRE,
"The Remote Infrastructure Management Global Market is expected to reach USD 35 billion by 2023 growing at 11% CAGR over the forecast period 2019-2023".
The worldwide RIM market estimate is USD 23.65 Billion in 2017. RIM will be a $30 billion opportunity for Indian IT vendors by 2020 as per Nasscom. The biggest piece of the pie amid the forecasted time frame is expected to be held by Storage Management. Among all the core services, it is expected to dominate the market as far as the overall industry is concerned and is anticipated to grow extensively in this time period. Ensuring the seamless working of entire IT infra is a significant worry for any organization. For these situations, enterprises require RIMM service to manage their servers, do server audit, patch management, updating, and performance monitoring offering proactive maintenance for their servers.
It is important for organizations to select a partner that has proven a track record in terms of delivering RIMM services to companies in a similar industry or comparable companies in other industries. Progression aligns with the organization's overall business objectives and goals. Progression empowers process improvement by the advanced tools and sensors monitoring infrastructure, upgraded procedures for tracking infra layers, and specialized tech expertise. We enable organizations to get flexibility and control to figure the most appropriate and well-estimated service structure accommodating their business needs. Progression provides a dedicated transparent platform which reflects any breakdown with respect to IT, triggers the alarm and the businesses would be notified on their portable screen. Nonstop 24×7 monitoring to guarantee reduced downtime and improved accessibility of IT assets. We also provide a routine investigation of the systems and propose enhancements and updates according to the most recent technology trends. We endeavor to address consistency and security challenges and furthermore offer innovations that address the vital business needs of the enterprises. Single-point solution to companies seeking speed, efficiency, and innovation of their IT assets is with Progression.