Progression is elated to announce that it has found its way in The Futuristic 100 in ChannelWorld Premier 100 Awards 2022 hosted by Foundry. Hosted virtually, this latest edition of awards recognized the Managed Services Providers and IT Business Leaders the extraordinary achievement of Progression in transforming itself as a resilient organization. The award was received by Mr. Arun Sharma, VP Sales & Marketing, Progression.
The theme for this year's edition in ChannelWorld Premier Awards was preparing for the New World of IT Business and the winners were recognized as The Futuristic 100 – an exclusive set of 100 channel companies who have been innovators, leaders and precise executors to lead the digital and business transformation across India Inc. 'The Futuristic 100' honored partner organizations who have undertaken bold, innovative strategies to transform their companies into resilient organizations to weather the storm after a volatile year of 2021.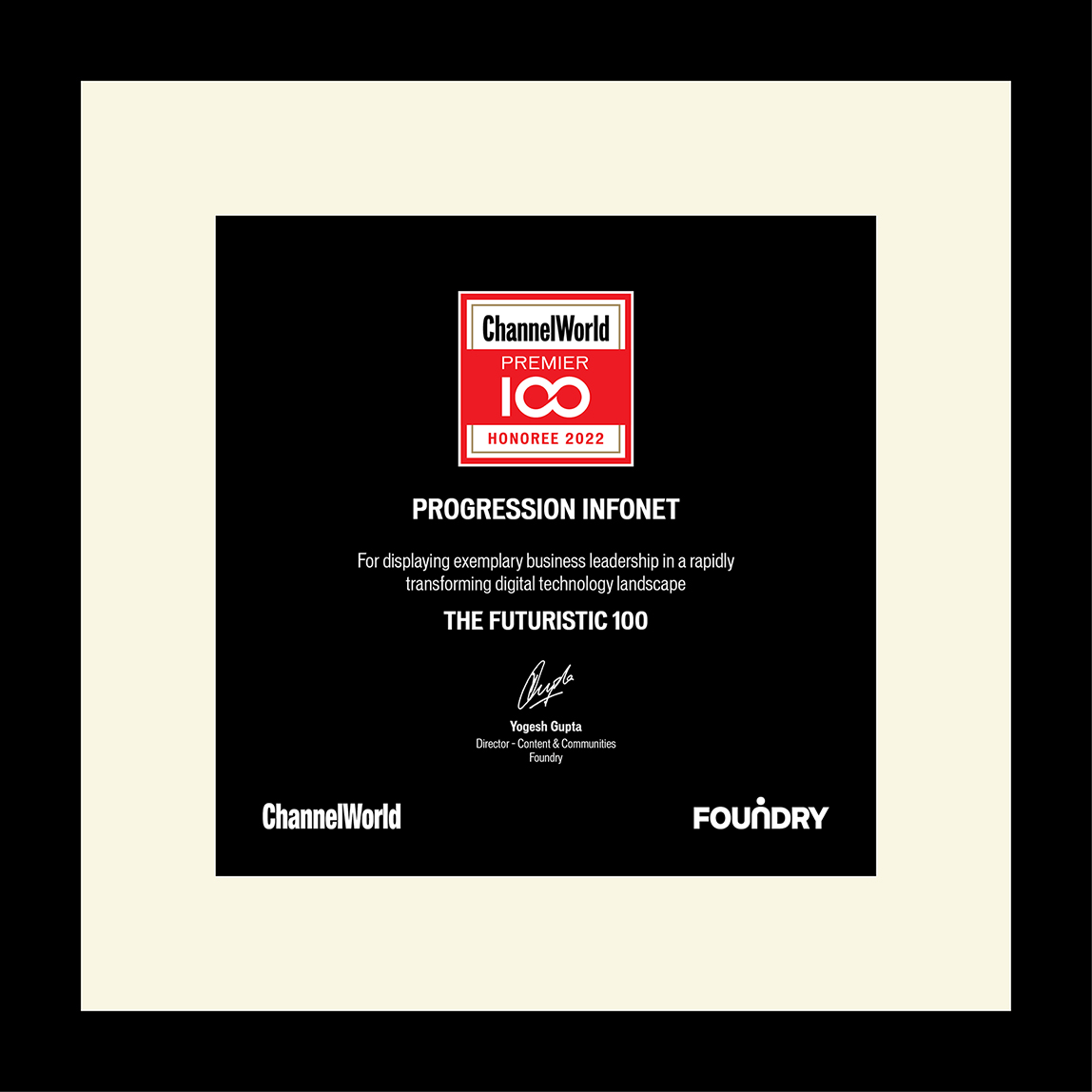 To be selected as one of The Futuristic 100 winners for 2022 edition, the applicants had to highlight their business transformation strategy adopted in FY 2021-22 to survive and grow their business in the new technology world. Progression demonstrated clear business value derived from the strategy that helped their entire team and customers traverse the digital transformation journey in the past 12 months.
Commenting on the ChannelWorld Premier 100 Awards 2022, Mr Sharma said, "This award is a testimony to our entire team that has put its best forward despite all kinds of volatile times we have been through in the last 12 months. We continue to stick to our philosophy of being the business enabler as we have always been, and delivering Managed Services to all our clients, Whatever IT Takes."
Progression invites you to take FREE guided tour of the state-of-the-art Tier III+ compliant Data Center–where Managed Hosting is a pleasure!