Managed Cloud Hosting for SAP HANA has been enabling businesses and enterprises to with multiple benefits for quite sometime now. With Progression offering added benefits such as short turn around, service excellence, high availability and remote infra management, the customer experience is better than ever. We are humbled to share that we have been chosen as the preferred Cloud partner for Managed Private SAP HANA Hosting by a leading multi-state road design and construction company from India.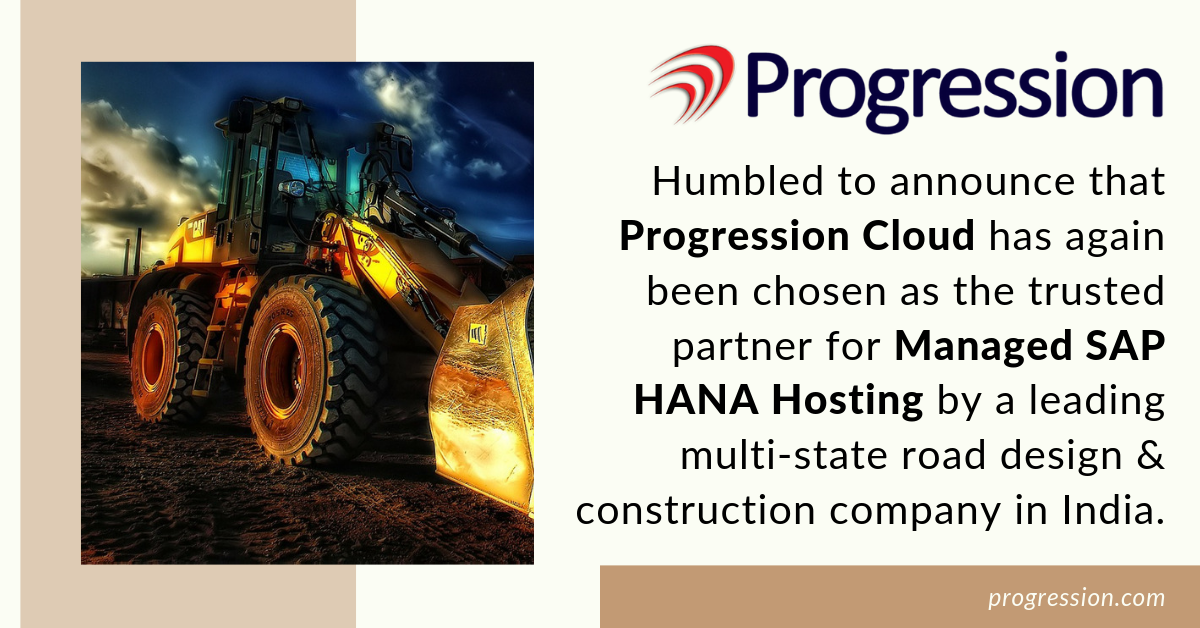 Incorporated approx twenty five years ago, the client has completed almost 100 large scale projects till date. Over these years, they have evolved into an established road EPC player and have gradually added facilities to support & supplement their road construction business. The client has a large employee base divided into multiple functions such as design, engineering, R&D and together they have been delivering excellence in multiple cities. Since IT is the backbone of any organization, they wanted to stabilize it and make the operations smooth to remove any potential roadblocks and maintain business continuity.
Taking the nature of the client's business, it was important for them to choose a Cloud Partner to give them the peace of mind when it comes to SAP hosting and administration so that they can accelerate business growth. Progression Cloud's strengths along with the strong candid testimonies from our other clients proved to be a strong case for the client.
Their SAP application is hosted in Progression's state-of-the-art Tier 3+ compliant Data Center in Gurgaon which gave them confidence. We offer the comfort of 24×7 support and adherence to stringent SLAs, timely audits, secure architecture, along with complete transparency backed by the availability of round the clock Remote Infrastructure Monitoring & Management.
We invite you to take FREE guided tour of the state-of-the-art Data Center—where Managed Hosting is a pleasure!