SAP S/4HANA accompanies the benefits of high performance, agility, flexibility at a reduced cost of ownership. In addition, proceeding to Cloud enables organizations to hone their emphasis on the structure on their center skills by changing from CAPEX to OPEX model. Joining the advantages of the two, facilitating SAP S/4HANA on the cloud has clear reputation of helping organizations disentangle their IT scenario.
We are glad to announce that we have been selected as the preferred cloud partner for Managed Private SAP HANA Hosting by a prominent manufacturer and supplier of innerwear, garments and other apparels for the complete family.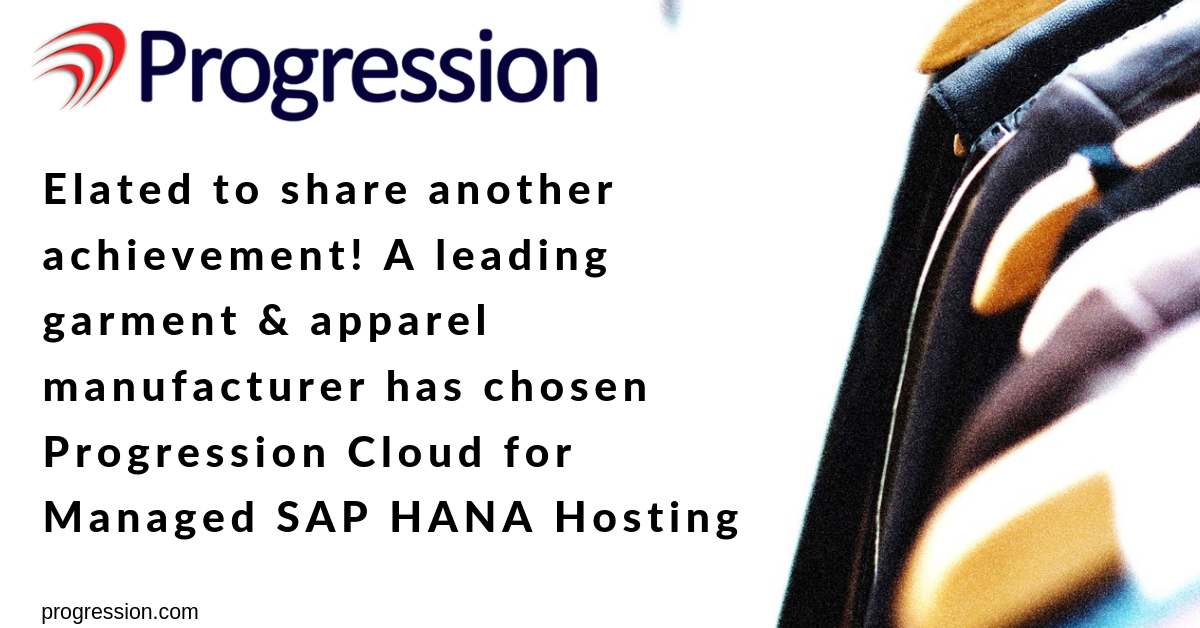 Our client has a vision to produce world class intimate apparels and to comprehend and deliver the requirements of the domestic markets meeting the global standards. With more than 25 years in the industry, our client see the value in rewarding the consumers with satisfaction and customization obtained out of R&D and quality for each product they deliver.
Progression's watertight solution architecture along with the strong service references from other clients presented a strong case for the client and got them interested. Progression's deep expertise and technical experience in Managed SAP Hosting gave the client the assurance that we are the right partner for them. Unlike Progression offered to provide a dedicated setup as opposed to other leading hosting service providers offering the setup on shared resources gave the client assurance that their application would be in the right hands.
Our SAP & Cloud teams demonstrated the technical capabilities and experience they have gathered over the years to handle the toughest of the circumstances to the client during their visit to our Datacenter. Their SAP application is hosted in Progression's state-of-the-art Tier 3+ compliant Data Center in Gurgaon which gave them confidence. We offer the comfort of 24×7 support and adherence to stringent SLAs, timely audits, secure architecture, along with complete transparency backed by the availability of round the clock Remote Infrastructure Monitoring & Management.
We invite you to take FREE guided tour of the state-of-the-art Data Center—where Managed Hosting is a pleasure!