While the tech and enterprise industries always discuss the benefits of cloud adoption in terms of scalability, availability and cost, there is yet another driving force which is pushing companies to adopt cloud. This force is Millennials (born in the early 1980s to the early 2000s) which constitute a large part of the organization workforce, and their target customers. And with time the impact of this demographic cohort is only going to get bigger.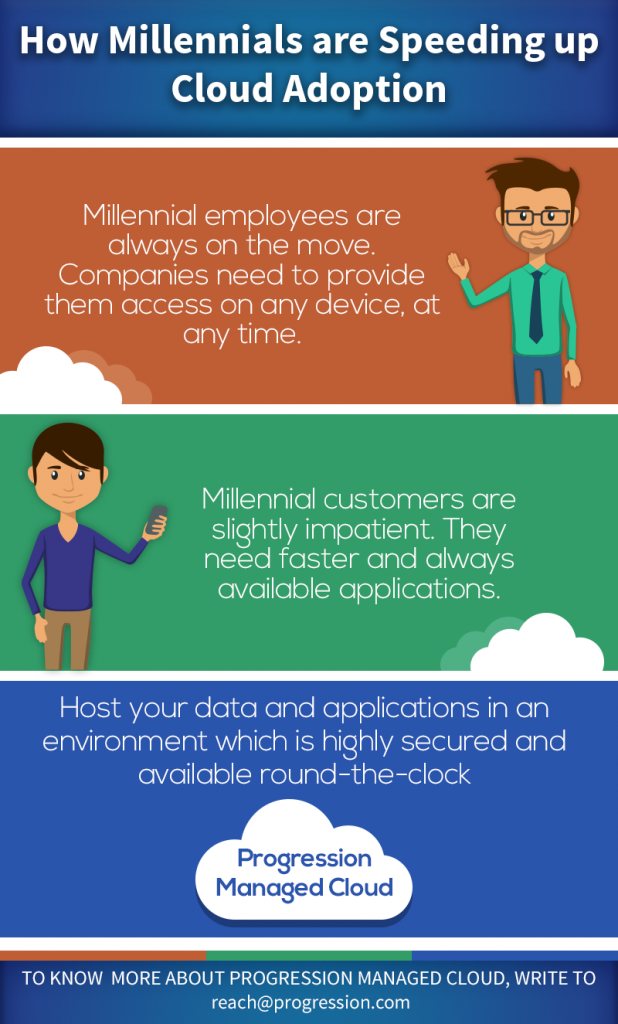 Newer Technologies and a Flexible Work Model
An organization needs to consider the adaptability of its internal customers i.e. its employees and their preferred method and technology. Millennials have been raised in an environment which was marked by digital presence. The experience of using the latest and up-to-date smartphones and gadgets have made them comfortable with new technologies, devices and apps. They have also got accustomed to a certain standard of UX (user experience) and availability. This makes them want a professional environment which incorporates state-of-the-art technologies and UX, the absence of which reflects in reduced productivity and excellence.
Even work is not 9 to 5 anymore. Organizations have to consider a sizeable population of the Millennials who are always on the move. To support this demand, organizations need to provide work-flex options, and anytime availability of key organization data. This has acted as a catalyst in the rise of Bring Your Own Device (BYOD), which has further evolved with the cloud, and has now switched to Bring Your Own Cloud (BYOC).
Connected devices supported by a cloud model have revolutionized what it means to work remotely, with employees now able to access emails and their entire workplace network from any location, on any device, at any time.
Faster and Always Available Applications
Most organizations have Baby Boomers employees (50 years and above) in decision making roles today. Although they are the ones who have witnessed the digital growth as it unfolded, it is the Millennials who are driving change by being able to exploit tech to the hilt.
To serve the Millennials' need for faster connectivity and delivery; companies are bringing their services to mobile apps. Be it a cab aggregator or a food delivery marketplace, apps are now available on the handheld device, while the backend spreads over cloud deployments. Millennials often run out of patience and need access when they want, and how they want it. Even a fraction of a second wait can be intolerable. That brings the question of secure access and high availability into the picture.
Ensure Apps and Data are Always Available
Enterprises are now coming up with great mobile apps that enable their sales and customer support staff on the move. Forms, signatures, photographs, and more are captured, accepted and approved digitally, reducing sales cycle times considerably. But if the app is unavailable, or not seen as secure by the customer, then it's not seen as an efficient process at all. While Cloud provides part of the answer, it's really Managed Cloud Services that are the real solution. Managed Cloud Services, like those from Progression, ensure availability as well as confidentiality and security for data and applications. applications. Progression delivers the reliable backbone for delivering the end user experience.
Progression provides an enterprise-grade cloud platform which is capable of hosting multiple and a large pool of services – from standard, rich and innovative applications to critical data sharing. And provides an expert team armed with cutting-edge monitoring tools to ensure that applications are available and secure, round the clock.
As Millennials demand more from the enterprise, the answer is to have a robust roadmap on technologies delivered via Managed Cloud Services. If you are facing challenges in deploying always available apps for your workforce and customers, drop us a mail. Our experts can help you out.