Everyone hates downtime and companies understand that Business Continuity is the key to survive in today's business environment. Even in all the events that Progression hosts, Business Continuity has featured at the top of priority lists of every IT Head.
But IT downtime is a reality, failures are unpredictable and their outcomes can be devastating. A single failure can lead to loss of application service and data, and a huge negative impact on employee productivity.
According to a report from DataCenter Operational Trends, more than USD 26.5 billion is lost each year from IT downtime. But what are the causes of downtime in IT? In our 3rd edition of Cloud Champions @ Progression, we asked our guest CIOs and senior IT professionals to discuss. Here's a list that we came up with:
Issues within an Organization – Human error was on top of the list because to maintain the data center and critical applications, you require highly skilled and dedicated resources 24×7. Even a minor lapse can lead to a major failure. Other similar reasons that came up were Administration Issues and Software or Hardware Failures. One of the senior IT professionals from the manufacturing sector pointed out that we can't rule Labor Unrest either. Strikes and rioting can lead to a business standstill, and IT is affected.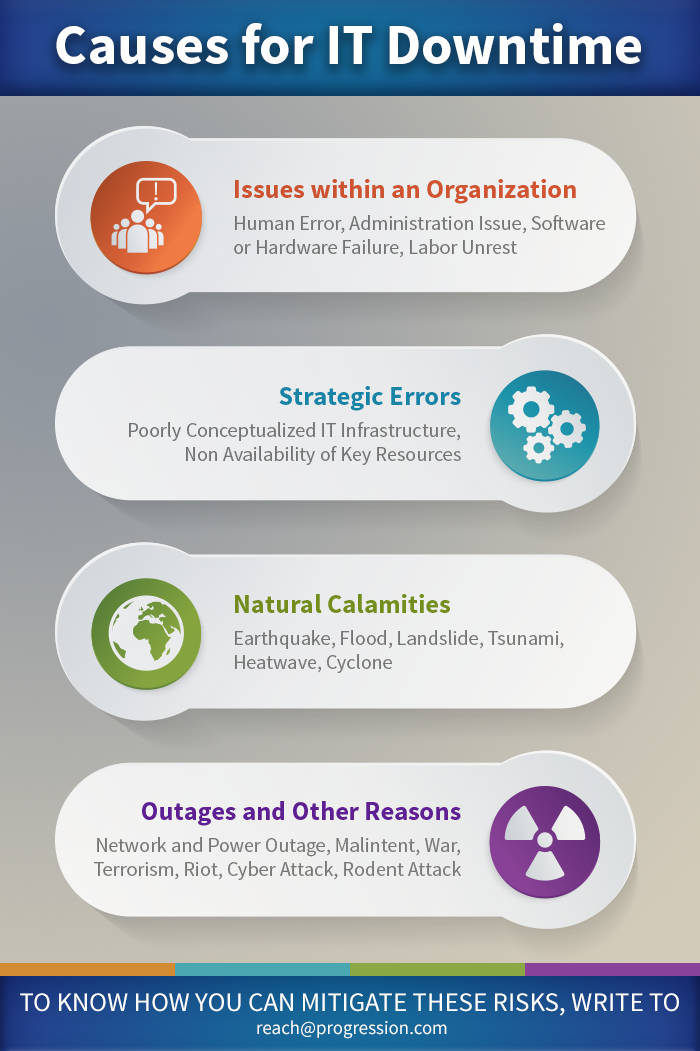 Strategic Errors – Sometimes we don't foresee the changing trends and make strategic errors that can later have catastrophic consequences. A Poorly Conceptualized IT Infrastructure is one such reason. Not consulting experts and keeping updated with latest technologies lead to such disasters. Evaluating each business application and then planning resources accordingly lead to smooth running of IT. In the absence of such planning, Non Availability of Key Resources is another reason for downtime.
Natural Calamities – In recent times, Northern India has seen quite a few natural calamities such as Earthquakes, Floods, Landslides. They have caused a huge loss to human life and property. Needless to say, they can catch the organization completely off guard and take a massive toll on business.
Outages and Other Reasons – Some of the biggest and leading companies in the online business like Facebook, Instagram, or even offline business such as Walmart, have experienced Network and Power Outages. More than the loss due to downtime, they can have a massive impact on the brand image and customer's trust. Other reasons like Malintent, War, Terrorism, Riot and Cyber Attacks should not be ruled as possible reasons for IT downtime. Rodent attacks in your server rooms can lead to wiring going kaput or short circuits. Pest control, then is no more only about hygiene, but also a prerequisite for BCP.
To know how you can mitigate these risks, write to reach@progression.com