On the 12th of May 2017, one of Europe's largest broadband and telephony companies realized that it couldn't access its own systems any longer. They had been encrypted by a ransomware, which was demanding bitcoin (a hard to trace crypto currency) to return control of the systems. That was just the beginning; in the United Kingdom, the National Health Service had to turn back non-critical patients from hospitals, as the systems infected by the ransomware wouldn't let them access patients' medical files. A large multinational automobile manufacturer's plants across the UK had to shut down production due to their infected and encrypted systems. WannaCry, the ransomware cryptoworm was spreading across the world, hurting businesses and affecting people. As it spread, it hit a global American courier company and an important European railway.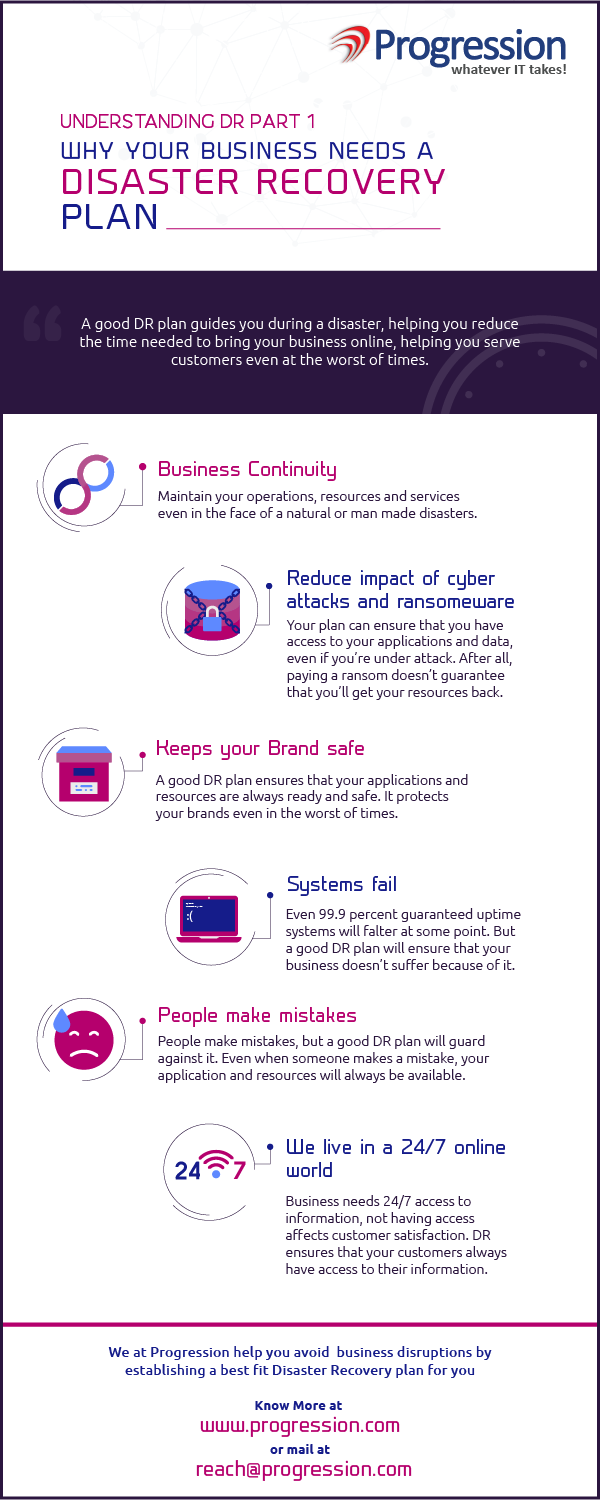 According to one estimate, WannaCry spread to 150 countries, infecting over 200,000 computers. India was one of the worst affected, along with Russia, Ukraine and Taiwan. A ransomware cryptoworm is just one type of disaster that can affect a business by impacting its information systems. Natural calamities, cyber attacks and even human errors that hit communication, storage or computing infrastructure can gravely cripple a company's decision-making capacity. But these 'disasters' don't have to stop your company from serving your customers even at the worst of times. Disaster Recovery Plans (DRPs) help identify and map out business critical applications, resources and their dependencies so that you can bring your business back online along predefined timelines.
Whether it's manufacturing or providing services to customers online, today all businesses are dependent on their information infrastructure and computing capability to make decisions. We at Progression understand how critical your applications and resources are for your business. We work with businesses to understand their most important processes, resources and data, in order to create customized DRPs for them. Our Disaster Recovery As a Service (DRaas) uses leading technologies and DR tools to protect your business workloads, be it physical or virtual, on premise or off premise (Public Cloud) to ensure that your business is best protected at all times. This blog is the first in a series 'Understanding DR', in which we will look at how a DRP can help your firm beyond providing uninterrupted information or services during disasters.
DRaaS is just one of many Business Continuity solutions that we provide at Progression. To find out more about how we can help protect your business, please leave us your details here or call us at +91-124-6670100.
In our next blog we'll look at how we at Progression create customized DRPs for our clients and how we can support your business too.