Automation is a crucial element in the digital transformation journey, driving new dimensions of customer value including higher quality and more profound responsiveness, by streamlining interactions and speeding up processes. Robotic Process Automation (RPA) is considered to be a critical priority for Digital Transformation and Automation by many enterprises.
RPA is not about deploying physical robots but adopting software robots to reduce the manual work which would supposedly take hours while the software robots can perform the same keystrokes in seconds, saving ample amount of time and effort. The bots work as a virtual business assistant and complete tedious tasks, leaving the employees to concentrate on more productive and revenue-generating tasks.
Digital Transformation can be adopted and implemented in different ways for different organizations. Apparently, it is the only way to meet the greater demands for real-time fulfilment, 24/7 availability, personalised consumer experience, greater accuracy, predictive data and faster processing. That still leaves enormous scope for your digital switch-over; estimates suggest that 45%-80% of current manual – mostly repetitive and rule-based work can be digitized; and that is the scope for RPA, one of the most potent routes to achieve a large part of your objectives.
In the automation world, while we are still in the midst of Industry 4.0, the next phase of industry revolution i.e. Industry 5.0 is already upon us. It is aimed at supporting humans and not superseding them to generate synergy and create an optimal balance between efficiency and productivity.
It is the next step in the relationship of a man and a machine. If robots are highly efficient and smart, humans are way more flexible and prove to be critical thinkers. The future of industry revolution depends on the cooperative ability of both humans and the robots. The next level of automation will be unlocked when you adopt RPA in your business to gain a competitive edge in this cut-throat competition.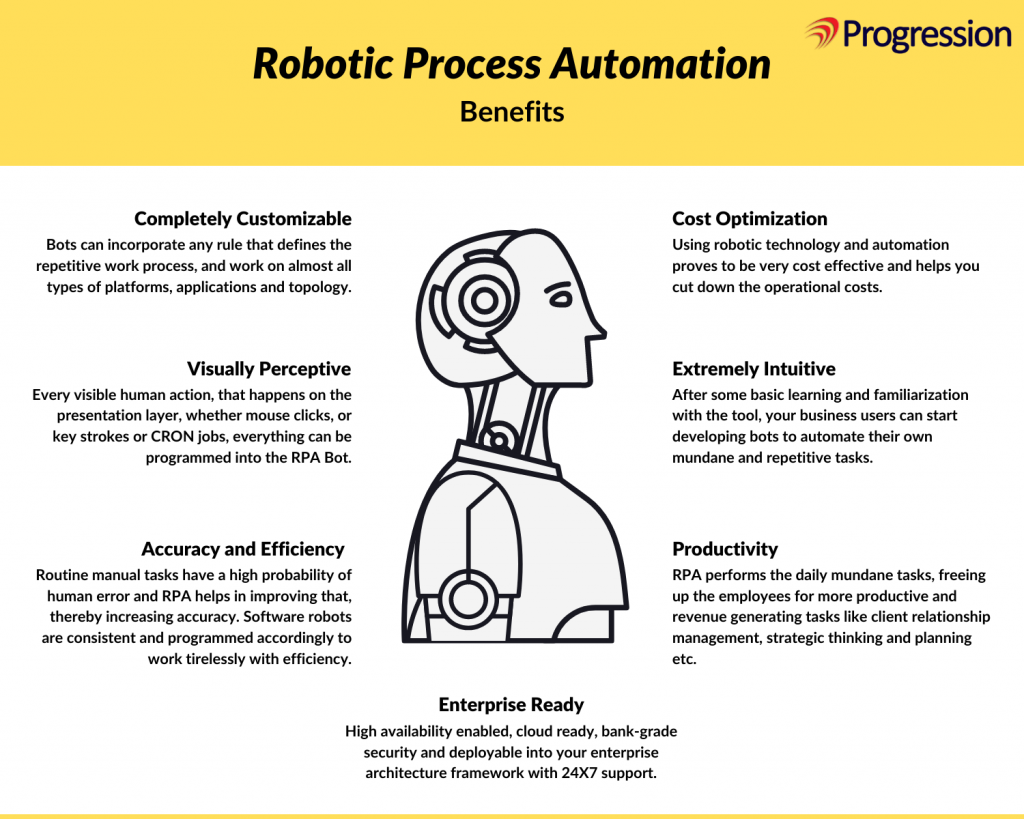 RPA Benefits
The computer-generated virtual assistants you deploy in the name of RPA for your company creates a room full of lot of benefits such as cost effectiveness, better productivity, more flexibility, etc. Let us look at some of the major benefits of RPA:
Completely Customizable– Bots can incorporate any rule that defines the repetitive work process, and work on almost all types of platforms, applications and topology.
Visually Perceptive– Every visible human action, that happens on the presentation layer, whether mouse clicks, or key strokes or CRON jobs, everything can be programmed into the RPA Bot.
Cost Optimization– Using robotic technology and automation proves to be very cost effective and helps you cut down the operational costs.
Extremely Intuitive– After some basic learning and familiarization with the tool, your business users can start developing bots to automate their own mundane and repetitive tasks.
Accuracy and Efficiency- Routine manual tasks have a high probability of human error and RPA helps in improving that, thereby increasing accuracy. Software robots are consistent and programmed accordingly to work tirelessly with efficiency.
Productivity– RPA performs the daily mundane tasks, freeing up the employees for more productive and revenue generating tasks like client relationship management, strategic thinking and planning etc.
Enterprise Ready– High availability enabled, cloud ready, bank-grade security and deployable into your enterprise architecture framework with 24X7 support.
What does the future look like?
According to a recent study conducted by Grand View Research, the global Robotic Process Automation market size was valued at USD 1.40 billion in the year 2019 and is estimated to grow at a CAGR of 40.6% from 2020 to 2027. This rising demand for automation in reducing the redundancy in the routine tasks in the business process is combined with Artificial Intelligence (AI) and Machine Learning (ML) enhancements. By 2022, 65% of organizations that deploy RPA will introduce AI and Machine Learning, according to Gartner.
Progression's Advantage with RPA
With Progression, get a partner who will look at your processes first and then recommend the right RPA solution, custom built by team that has been in the IT industry for more than two decades.
Our consultative nature of engagement will ensure that benefits of RPA including cost, quality, flexibility, risk mitigation, processing cycles and ROI are measurable, demonstrable and can be proven. If majority of these measures are not up to the mark, we ourselves will advise you not to touch those processes for RPA.
After deploying RPA to automate your business processes, from Progression, you will get to see the proofs of benefits right from the PoC stage. For us every customer and every business are unique and there is not one template that can be stamped on all customers. Keeping the core RPA expertise in place, we customise our approach towards each customer's RPA needs.
We know that RPA Bots, by their very nature, must be operated in a completely secure environment. That is why our solution delivers bank grade security. We ensure every measure of layer of security is applied on the bot solution and is tested in various environments before delivering it to you.
Sounds interesting? Optimize resources & improve ROI with Business Process Automation using our RPA solution with customizable & enterprise ready intelligent bots.