The cloud is now all the rage, and adoption is growing across all industries. While awareness and knowledge levels regarding the cloud are growing, the complexities attached to it are as well. Issues related to transparency, pricing and what it covers, quality of underlying infrastructure, availability of expertise, monitoring and management challenges – it's as if a Pandora's box has opened up.
Here are the 10 things you should consider, before making a decision on cloud services.
1. Ownership of Data – Ask your service provider about how being able to get your data out easily. In many case it happens that even if you move on from the service provider, your data (as of the last day of your contract) will not (because your data could be on a shared database!). Effectively, you're locked in. So this is the number one thing you should ask your service provider. With Progression you can be assured that you have 100% ownership of your data.
2. Cost to import and export your data – Usually, cloud customers do not factor in the price, ease of export/import, time taken for this process. Most of the cloud service providers will simply bill you for data import or export. Or ask you to download it off your network connectivity. This as an arm twisting tactic, because gigabytes of data, as you already know, cannot be easily downloaded in this manner.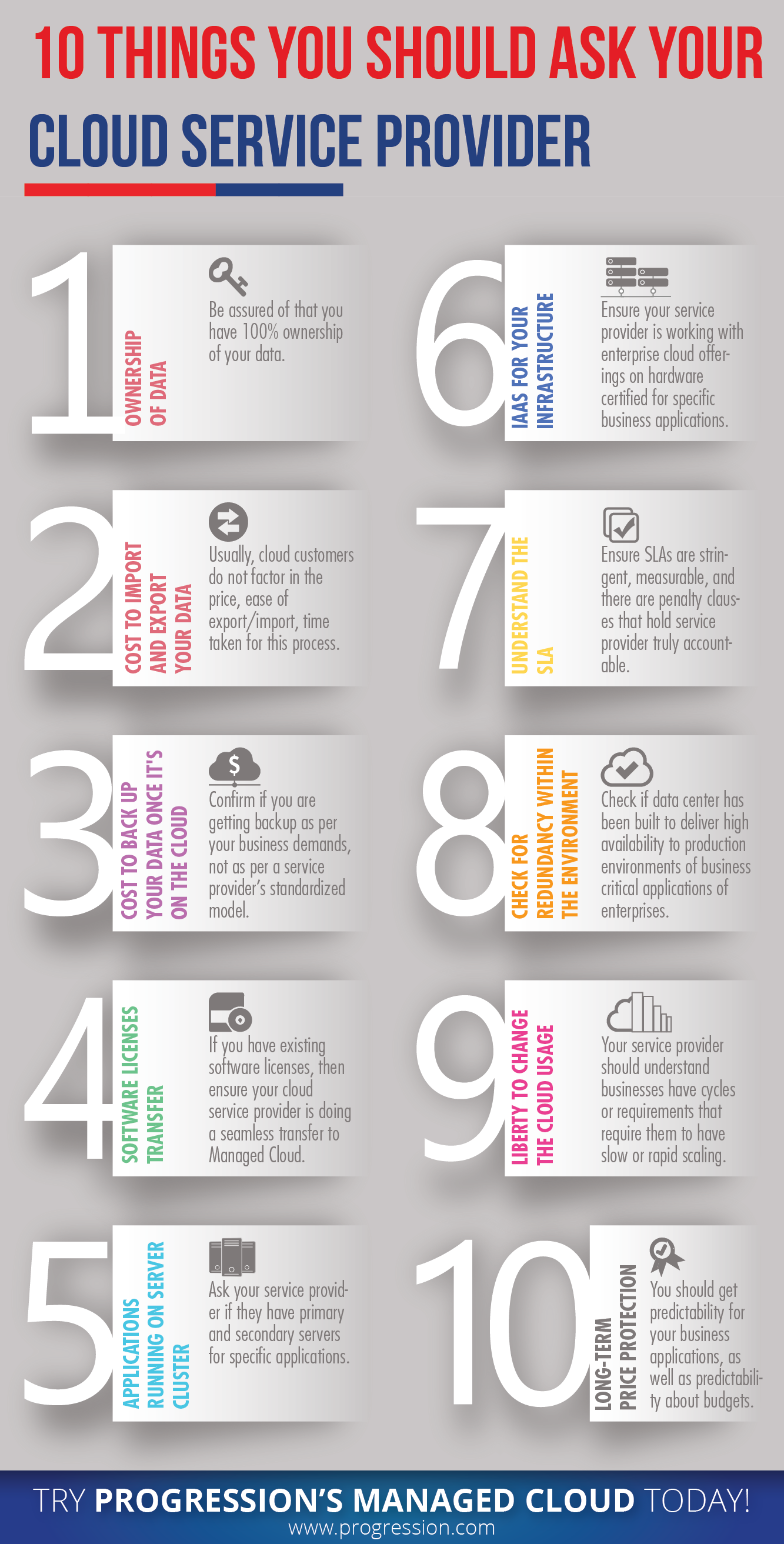 3. Cost to back up your data once it's on the cloud – While going for cloud services, another important factor to be considered is backup cost. Back up as a service is a necessity, and you would not like to run in to a situation where you have to pay hefty fees for this service. You may also need tailored backup policies as per your business objectives. Progression provides you backup as per your business demands, not as per any standardized model or DIY (do it yourself) approach.
4. Software licenses transfer – What happens to your existing software licenses when you move to the cloud? Progression helps you be aware of compliance issues involved and take the right decisions related to licenses as well.
5. Applications running on server cluster – For high availability on cloud, service provider should ideally design server clusters on underlying high-performance SANs, which give them the ability to move across the servers easily. You should ask your service provider if they have primary and secondary servers for specific applications, connected with a heartbeat to help the secondary server take over as soon as any issue crosses its threshold in the primary one.
6. IaaS for your infrastructure – Server farms hosted in another country, or in some ill-fitted buildings are not what an enterprise needs for its business critical applications. Your enterprise applications need world-class infrastructure, running the latest-generation hardware and industry-leading software, on which your cloud service provider has direct physical access and control. Progression works with enterprise cloud offerings on hardware certified for specific business applications.
7. Understand the SLA – Ensure SLAs are stringent (yet not unrealistic or misleading), measurable, and there are penalty clauses that hold service provider truly accountable. Many service providers offer clauses that are nothing more than tokenism in the name of penalty. Progression follows stringent SLAs and takes on penalties that few people in the industry offer.
8. Check for redundancy within the environment – Check if the data center has been built to deliver high availability to production environments of business critical applications of enterprises, such as SAP, Oracle E-Business, Navision, Axapta, and so on. 
9. Liberty to change the cloud usage – The very premise of cloud is elasticity, and not just for scaling up, but for scaling down as well. Your service provider should understand businesses have cycles or requirements that require them to have slow or rapid scaling up or down. The cloud is to enable business, and Managed Cloud should deliver that.
10. Long-term price protection – As an enterprise client, you have long term contracts with many service providers. A service provider may have to deal with cost escalations such as increase in manpower, bandwidth or fuel costs, or power outages, but these should not be passed on to the existing clients with long-term contracts. Progression ensures you get predictability for your business applications, as well as predictability about budgets.